Candidats à l'élection présidentielle du 24 juin 2018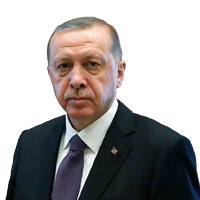 Recep Tayyip Erdoğan
Justice and Development Party
(AK Party) Chairman
Recep Tayyip Erdoğan was born on Feb. 26, 1954 in the Kasımpaşa district of Istanbul. Erdoğan, also renowned for his sportsmanship, played amateur football from 1969 to 1982. He was involved in the National Turkish Student Association since high school, and started his active political career in the National Salvation Party (MSP). He was first elected as chairman of Beyoğlu Youth Branches and then chairman of Istanbul Youth Branches.
He joined the army as a reserve officer in 1982. In 1984, he became the Welfare Party's (RP) Beyoğlu District Chairman, and its Istanbul Provincial Chairman the following year. He also became a member of the Central Management Board (MYK) for the RP. In local elections held in 1989, he ran for for mayor of Beyoğlu. Despite being elected as a member of Parliament in 1991, he could not enter Parliament because of the obstacle posed by preferential voting. In the local elections held on March 27, 1994, he was elected as Istanbul Mayor. He was sentenced to 10 months in prison for a poem he read on Dec. 12, 1997, and was released from the Kırıkkale Pınarhisar Prison on July 24, 1999.
Founding the Justice and Development Party (AK Party) on Aug. 14, 2001, he was elected Chairman by the Founders' Council. He could not be a deputy candidate in the Nov. 3, 2002 elections due to the fact that he was banned from holding political office. On March 9, 2003, he entered the Grand National Assembly with by-elections held in Siirt. With the resignation of Abdullah Gül on March 15, 2003, he became prime minister. His party won the general elections held on March 28, 2004, July 22, 2007, March 29, 2009, June 12, 2011, and March 30, 2014.
He became the first president elected by popular vote in the presidential elections held in 2014. Erdoğan, who is the 13th president of the Turkish Republic, became a joint candidate of the People's Alliance for the June 24th elections.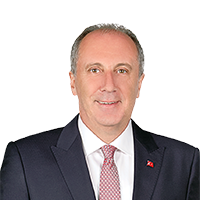 Muharrem İnce
Republican People's Party (CHP)
Member of Parliament for Yalova
Muharrem İnce was born as the son of Şerif and Zekiye İnce on May 4, 1964 in Istanbul's Yalova district. After completing his primary and secondary education in Yalova, he graduated from Uludağ University's Department of Education of Physics-Chemistry.
He worked as a physics teacher at high schools and private teaching institutions while serving as a head teacher. For a while, he also served as a press spokesman of Yalovaspor (a football club) and the Provincial Chairman of the Atatürkist (Kemalist) Thought Association. İnce, who served as a member of the CHP Party Assembly, has been a member of Parliament for Yalova since 2002. He was a member of the National Education, Culture, Youth and Sports Commission in the 22nd and 23rd terms of Parliament of Turkey and the CHP Group Deputy Chairman and Member of Parliamentary Assembly of Turkic-speaking Countries (TÜRKPA) during the 23th and 24rd terms of the Turkish Parliament.
From time to time, İnce stood out with his opposing statements against the party management and CHP Chairman Kemal Kılıçdaroğlu. On Aug. 18, 2014, he resigned from group deputy chairmanship and became a candidate for general chairman at the CHP's General Assembly. However, some 740 delegates voted for v and 415 voted for İnce. He once again became a candidate at the 36th General Assembly on Feb. 3, 2018 but lagged behind Kılıçdaroğlu, who received 790 votes compared to the 417 votes he gained. He is married and a father of one. He has written four books named "Tatanka," "Bu Kaçıncı Kirlenişin Beyaz," "1 İleri 5 Geri," and "Buyurun Sayın İnce/Siz Yokken Meclis Sonuna Kadar Çalışıyordu." İnce is the CHP's presidential candidate for the June 24, 2018 elections.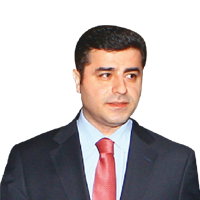 Selahattin Demirtaş
Peoples' Democratic Party
(HDP) Chairman
Selahattin Demirtaş was born in 1973 in Turkey's southern province of Diyarbakır, where he attended primary and secondary school. After graduating from high school, Demirtaş enrolled at the School of Maritime Business and Management at Dokuz Eylül University. After studying for two years here, he had to drop out due to political reasons. He retook the university entrance exam and started his higher education at Ankara University's Faculty of Law and moved to the capital city. After graduating from the Faculty of Law, he worked as a self-employed lawyer for a while.
He then worked in management for Diyarbakır Branch of the Human Rights Association. After Osman Baydemir, the Human Rights Association Chairman at the time, was elected as mayor, Demirtaş replaced him as chairman. During Demirtaş's chairmanship, the association followed a policy that cracked down on unsolved murders. In the same period, he was among the founders of the Human Rights Foundation of Turkey and of the Diyarbakır Branch of Amnesty International.
In 2007, Demirtaş served as deputy chairman for the Democrat Society Party (DTP). After the party was shut down, he joined the newly-founded Peace and Democracy Party (BDP) and was elected chairman at the party's first extraordinary congress held on Feb. 1, 2010.
In the process when the BDP merged with the Peoples' Democratic Party (HDP), Demirtaş and Figen Yüksekdağ were elected co-chairpersons in the Second Extraordinary Congress held in 2014. He entered Parliament as a deputy for Diyarbakır in general elections held in 2007, for Hakkari in 2011 and for Istanbul in June 2015. On Nov. 4, 2016, Demirtaş, along with HDP Co-Chair Figen Yüksekdağ and nine members of parliament from the HDP, were arrested on charges of "establishing an organization with the goal of committing a crime," "being a member of terrorist organization," "being a member of an armed terrorist organization," and "committing crime on behalf of an organization" and sent to the Edirne F-type prison.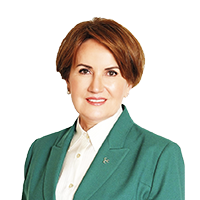 Meral Akşener
İYİ (Good)
Party Chairwoman
Meral Akşener, born on July 18, 1956 in the İzmit province of Kocaeli, is the daughter of Sıddıka and Tahir Ömer who migrated from Thessaloniki to Kocaeli. After attending the Bursa Girls Teacher Training High School in 1974, she graduated from the history department of Istanbul University's Faculty of Letters in 1979. She worked as a teacher from 1979 to 1982. In 1982, Akşener became a research assistant at Yıldız Technical University's Kocaeli Engineering Faculty.
She received a PhD and a master's degree from Marmara University's Institute of Social Sciences, which was followed by her serving as a chair for Kocaeli University's department of revolutionary history. She founded and chaired the Zübeyde Hanım Martyrs' Families Foundation.
In 1995, she became the Women's Branch Chair of the True Path Party (DYP). In the 1995 general elections, she entered Parliament for the first time as a DYP deputy for Kocaeli. After Mehmet Ağar resigned from the 54th Turkish government's Interior Ministry following the Susurluk accident of Nov. 3, 1996, she became the first female interior minister in the history of Turkey. With the dissolution of the 54th Turkish government following the Feb. 28 process, her term ended on June 30, 1997. She entered Parliament once again as an Istanbul DYP deputy in the 1999 Turkish general elections. In 2001, she joined the Nationalist Movement Party (MHP), and in the 2007 general elections she entered Parliament as a MHP deputy for Istanbul. In the general elections of 2011 and June 2015, she re-entered Parliament as a MHP deputy for Istanbul. In the November 2015 elections, she was not nominated for deputy of the MHP. Since Oct. 25, 2017, she has been the chair of the İYİ Party, which was formed under her leadership. She will join the June 24 elections as a presidential candidate from the İYİ Party.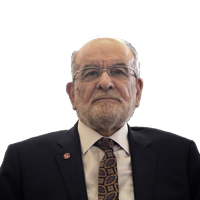 Temel Karamollaoğlu
Felicity Party
(SP) Chairman
Temel Karamollaoğlu, who was born in Kahramanmaraş in 1941, completed his primary and secondary education in various provinces across Turkey. In 1964, he graduated from the textile technology department of the University of Manchester's Institute of Science and Technology in the U.K. where he studied on scholarship. In 1967, he completed his graduate studies at the same university.
He joined the team of Necmettin Erbakan, who founded the National Order Party (MNP) in 1970 and then the National Salvation Party (MSP) in 1972 after the MNP was shut down post the March 12, 1971 coup. In 1977, he was elected as a MSP deputy for the Sivas province. During this period, he represented Turkey at the Council of Europe's Parliamentary Assembly. In 1978, he became a member of MSP General Assembly. After the 1980 coup, Karamollaoğlu refrained from active politics until the 1987 referendum. In the 1980s, Karamollaoğlu at first worked as a private consultant, and then as general manager and coordinator for a textile company.
In 1989, Karamollaoğlu was elected as the mayor of Sivas for the Welfare Party (RP). After serving as mayor for a term, he was re-elected in the 1994 Local Administrations elections. In 1995, he became a deputy candidate for the RP and was elected as a deputy for Sivas.
After 1995, he served as a member of the NATO Parliamentary Assembly. In the same period, he became the RP Group Deputy Chairman and remained in office until the RP was shut down in January 1998 with the decision of the Constitutional Court. Karamollaoğlu was elected a member of the General Administrative Board of the Felicity Party (SP) in a congress held in 2000, and was appointed Deputy Chairman in charge of External Relations. At the 6th SP Congress held on Oct. 30, 2016, he received the unanimous vote of 871 delegates and was elected as leader of the party after Mustafa Kamalak. The SP will enter general elections and presidential elections on June 24, 2018 for the first time under Karamollaoğlu's chairmanship.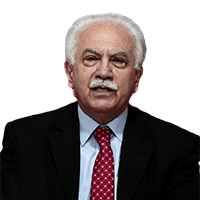 Doğu Perinçek
Patriotic Party
(VP) Chairman
Doğu Perinçek was born in Turkey's southern province of Gaziantep in 1942. He is renowned for the chairmanship of his party, rather than the articles he wrote in the Aydınlık magazine. Perinçek, who is also a doctor of law, has been chairman of the Patriotic Party (VP) since Feb. 15, 2015. Perinçek is the son of Lebibe and Sadık Perinçek, who served as deputy chief prosecutor of the Supreme Court and was elected as a Justice Party (AP) deputy for Erzincan for four terms.
He completed his primary and secondary education at the Ankara Sarar Elementary School, Atatürk High School and Ankara Bahçelievler High School. Then he enrolled at the University Faculty of Law in Ankara to pursue his higher education and went to Germany for a while during his university years.
From 1962 to 1963, he worked in Germany for 10 months and studied the language at the Geothe Insititute. He completed his undergraduate studies in June 1964 and later became a research assistant at the department of Public Law (State Theory and Public Freedoms) at the same faculty. The same year, he adopted Scientific Socialism as a political view. He served as a director of the Turkish Political Science Association for four years and as the director of Turkish Law Institute for four years.
Perinçek speaks German well and English at the intermediary level. He is married to journalist Şule Perinçek, who is a graduate of Ankara University's Political Science Faculty. They have four children: Zeynep Perinçek, Kiraz Perinçek, Mehmet Perinçek and Sadık Can Perinçek.