Chief of the Army General Salih Zeki Çolak was held hostage in Akıncı Air Base by the putschists, during July 15 coup attempt of FETÖ.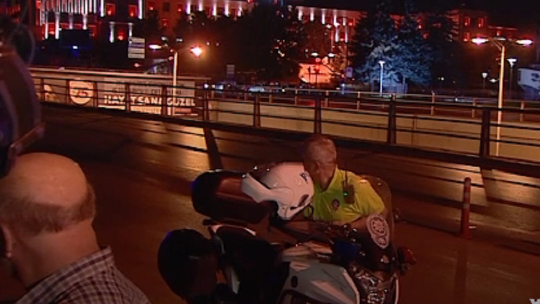 Çolak, who found out that the coup attempt was operated by the Deputy Chief of Staff and Chief of Cabinet while he was taken to General Staff, gave his statement as complainant to prosecution office:
Full General Çolak, who stated that he called Chief of General Staff Full General Hulusi Akar in order to inform him about rumors on the night of the coup attempt, also stated that Lieutenant Colonel and adjutant of Chief of General Staff Levent Türkkan had told him with a very calm voice, "Chief of Staff is waiting for you and specifically Chief of Staff İhsan Uyar, at the headquarters, sir."
Stating that Türkkan had invited him directly to the headquarters without contacting Akar, Çolak stated that when they got to the headquarters, Supply Major Yunus Can, who was adjutant in the southern regular army of General Staff, said to him, "There are people lying on the ground in the southern regular army of General Staff, there might be a problem, sir. It can be dangerous to enter the headquarters from where we are, therefore we are headed to the Military Academy's main entrance."
Çolak stated, "I ordered my security officer Infantry Major Burak Akın that the other regular armies of General Staff Barracks could be used as an entrance and that way the operation could be coordinated, in case there would be problems in the southern regular army of General Staff and Military Academy's holding bay. I used the entrance of Ministry of Defence, in General Staff, and I got into General Staff."
"There were bad gunfire noises"
He stated that after he got into the General Staff building, while he was advancing, he saw soldiers that looked like fully-equipped Special Forces personnel, and he thought that it could be a practice drill for barrack security. Çolak's statement as complainant:
"My personnel and my guard details stopped by regulations 50 meters before the gate to the command center of our Chief of General Staff, and waited there. This procedure is followed regularly anyway. Meanwhile, we could hear bad gunfire noises from around the headquarters and some parts of the yard. I couldn't see as it was dark, but it was serious gunfire. When I got out of the vehicle under heavy gunfire in front of the Command Center's gate, Chief of Cabinet of General Staff, Staff Colonel Ramazan Gözel was ranting from inside the front door, "Sir, get inside quickly!" Until then, I thought that General Staff had been attacked from outside, and that the soldiers inside were defending the headquarters against the attackers from outside. With haste, my Chief of Staff Full General İhsan Uyar behind me and my commissioned officer Major Yunus Can, we got inside."
The master guard was martyred
Full General Çolak stated that after they got inside, they were swooped down on by some people with pistols and rifles, who looked like Special Forces personnel, together with Can and Uyar. Çolak stated, "They pointed guns at us. They yelled, 'Don't move, this for your own safety.' Most often, these phrases are preferred by Special Forces, so we thought they were from Special Forces. Meanwhile, my master guard Infantry Major Burak Akın, who saw something happening upstairs, wanted to intervene in the situation."
Full General Çolak, who stated that the master guard Infantry Sergeant Major Bülent Aydın was martyred while intervening, also stated that his driver, civil servant Başaran Karabıçak, was handcuffed from behind and taken to somewhere in the barracks and kept hostage there until the following day.
Çolak, who stated that they were taken to the room of Deputy Chief of General Staff Full General Yaşar Güler while their hands were cuffed from behind, also stated, "While entering the room, I saw Colonel Bünyamin Tuner, who was also Deputy Chief of General Staff's Chief of Cabinet, organizing all of this operation. Me, my adjutant Yunus Can and the Chief of Staff İhsan Uyar were kept in the Deputy Chief's room. While we were sitting there, after approximately 35 minutes, our hands tied from behind, some people came in and handcuffed us with harsh treatment. Our heads were covered and our hands and feet were cuffed.
From time to time, they pushed our heads forward to prevent us from seeing surroundings. After we were rescued, we received reports regarding this, from our infirmary doctors."
Çolak stated that the putschists prevented them from talking to each other by frequently pressing their hands against their noses and mouths, and that around 22:30 they were taken out with the warning, "We're leaving." Çolak also stated that they were then taken to Akıncı base, by a helicopter.