After a pilot working in the Army Aviation Command came to the National Intelligence Organization (MIT) and reported that "there will be an attack on MIT from the air and Hakan Fidan will be abducted", MIT notified the General Staff regarding this report. After this notification, Chief of Staff Hulusi Akar, Land Forces Commander Salih Zeki Çolak, and 2nd Chief of Staff Army Genreal Yaşar Güler had a meeting. Yaşar Güler also met with the Vice Secretary of MIT who came to the General Staff Headquarters.
Around 6.30 PM, MIT secretary Hakan Fidan came to the headquarters and met with Akar. After this meeting, the following decision was taken "No military aircraft shall fly in the Turkish air space until a further notice, all airborne aircrafts shall return to their bases, and all tanks and armored vehicles shall cease their activities". After the meeting, Hulusi Akar and Yaşar Güler kept working in the headquarters. Putschists attacked Güler's room who kept working until 9.25 in the evening. Mehmet Akkurt, Güler's adjutant, was involved in the abduction of the 2nd Chief of Staff Yaşar Güler by force of arms. Güler was taken to the Akıncı 4th Main Jet Base by putschists with a helicopter. He was then rescued with an operation after the coup attempt failed.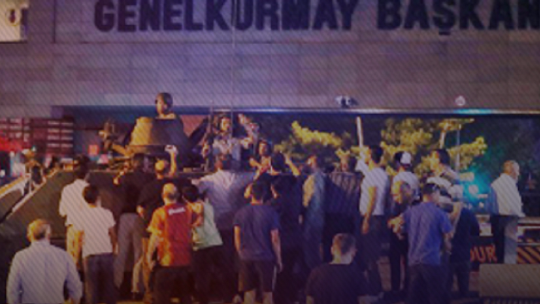 The statement of Army General Yaşar Güler revealed that Army General Akın Öztürk was acting in the Akıncı Air Base with complete freedom and giving orders to the putschist soldiers. Güler's statement is as follows:
I was working alone around 9.15 PM on July 15, 2016. I heard somebody knocking at the door. I said 'get in'. Then I heard people yelling 'Get on the ground!' I saw 10 personnel in my office in training uniforms with their weapons pointed at me. One of them yelled 'Get on the ground!' again. I asked them who they were. They attacked me, again yelling 'get on the ground.'
"I threw one of the putschists"
I held one of them and threw him to the other side and he fell onto the ground. Then they attacked me with greater anger. They laid me down on the ground. One of them pushed my head with his foot. They were pulling my arms and legs. They tied my hands from behind. They also taped my mouth at first.
"My adjutant was directing them"
When I was in that state, one of them tapped me on my shoulder and mockingly said 'Commander, don't worry, this is a drill.' I looked at him and it was my adjutant Mehmet Akkurt. I understood that he was in charge. They covered my face with a beanie. They forced me to get up. I was resisting. They dragged me to the corridor
"They dragged me 3 floors down"
They dragged me along the corridor and took me 3 floors down. Then they got me out from the door on the side of the building. They put me in a car and the car moved quickly. I was taken to the gate towards the Naval Forces Command. When we got to the entrance, they were shouting 'open the gate. It was Mehmet Akkur who was shouting as I recognized his voice. When the gate didn't open because of the rising bollards, Mehmet Akkurt got out the car.
"They opened fire"
He yelled at the people there 'Open the gate or I will shoot' and he started shooting. I heard the other side responding by shooting as well. Bullets were hitting the vehicle I was in. The person who was sitting next to me got off the car and yelled 'A martyr!'. At that moment, I hit the person to the left of me with my shoulder. After this, they pulled me and the person next to me out of the car, and dragged me on the asphalt to another car. We waited inside the barracks for a long time. Then I was brought to the Akıncı Air Base with a helicopter.
"We walked downstairs for an hour"
After I waited in the car alone for 2 or 3 minutes, they pulled me out of the car and put me in an ambulance as far as I was able to see under the beanie. We toured inside the General Staff barracks for a while and stopped in front of a building. They dragged me out of the car and went down on a really narrow stair for almost an hour. There, they put me inside a room. Then they took me upstairs again. As we were leaving the building, somebody said 'It didn't happen' and we went back to the same room.
"I was relieved when the base was bombed"
Some time passed. In the meantime, I heard jets flying, which I thought were F-4s rather than F-16s, and dropping bombs. I thought that was a counter act by the Armed Forces against the putschists. That was when I was relieved.
"Yaşar, what are you doing here?"
The door opened, I heard the voice of Army General Akın Özgürk. He said, 'Yaşar, what are you doing here? I didn't know you were here.' He uncovered my face. Then I saw that we were alone in the room. Akın Öztürk asked the person who was waiting outside 'Why did you tie the commander's arms and legs? Go bring something and untie him!'. Akın Öztürk himself untied me. He sat across me and had an officer who he told was his own officer bring tea, water, and some snacks.
"He left saying there was an armed guard"
He also told that person 'Call the house of Commander Yaşar and tell his family that he is alive.' Akın Öztürk started talking and said to me 'They are insane. How can you do such thing against your country?' He told me he had been there since 11.00 PM the previous night and tried to convince them to give up, and managed to convince some of them. Then he left saying there was an armed guard at the door.