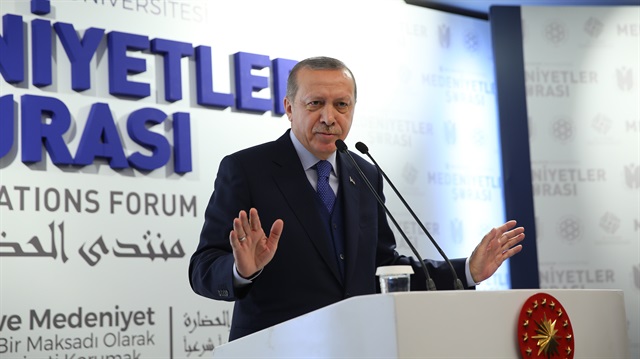 Turkish President Recep Tayyip Erdoğan said on Saturday the U.S. could not be called a civilized country after arrest warrants were issued for his security guards following incidents in Washington D.C.
"If America issues arrest warrants for my 13 bodyguards in a country where I went upon invitation, I'm sorry, but I will not say that country is civilized," Erdoğan said at the Civilizations Forum at Ibn Haldun University in Istanbul.
"What do they call America? The cradle of democracy. Such a thing cannot be a democracy and its name cannot be democracy," he said.
On June 15, the U.S. issued arrest warrants for 16 people including Erdoğan's bodyguards allegedly linked with a brawl outside the Turkish embassy in Washington during the Turkish president's visit in May.
The president said he and his security team faced threats during his visit. "They [security guards] took measures for us. And even two of them [guards] were not even there. Can there be such justice?" Erdoğan said.
Erdoğan says Trump's policies are troubling
Erdoğan also criticized U.S. President Donald Trump's policy regarding Muslims saying Turkey never closed its doors to people who thought differently.
"Muslims in America are facing expulsion so it means there is a problem in the country," he said.
The Trump administration laid out late last month new restrictions to replace Trump's previous travel ban, which was set to expire, adding two non-Muslim-majority countries to the list of designated nations while dropping Sudan.
"We have not closed the doors to people of different thoughts. We believe human beings are worthy of respect and honor. It appears that this is not the case in America, and the current situation is troubling," Erdoğan said.
The countries that face travel restrictions under Trump's new order are Chad, Iran, Libya, North Korea, Somalia, Venezuela and Yemen.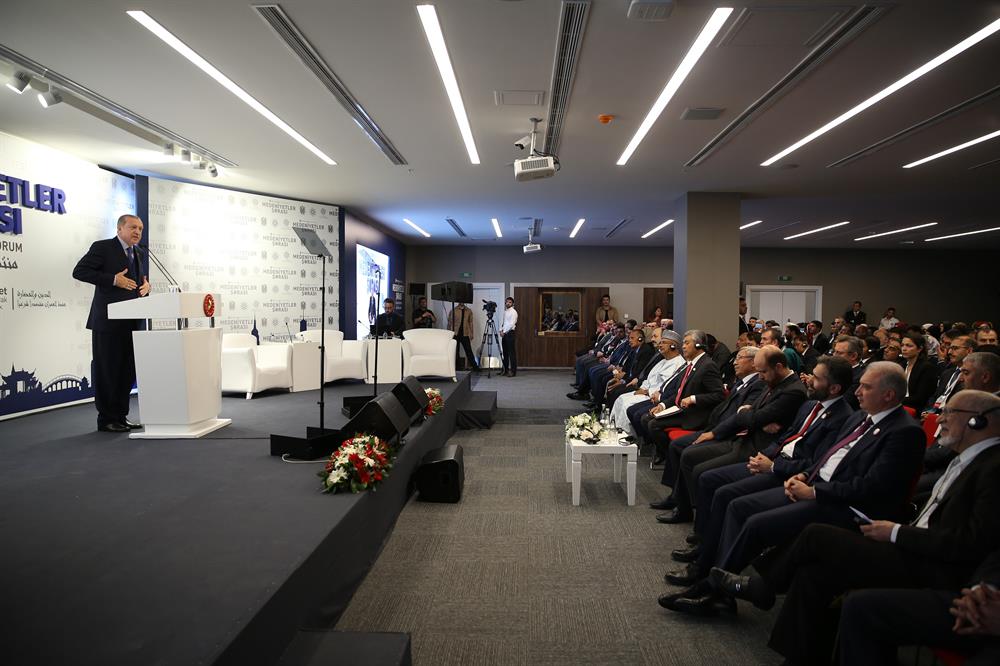 They were designated because they have either not met higher screening and information sharing requirements or present what officials call sufficient risk factors.
This latest attempt to curtail immigration to the U.S. was dealt a legal setback after a Hawaii judge ruled Tuesday that it suffers from the same legal deficiencies as his previous directives.
The ban was set to go into effect within hours when U.S. District Judge Derrick Watson said in his ruling that Trump's latest executive order "suffers from precisely the same maladies as its predecessor".
Criticisim of stance against Muslims
Erdoğan also said the U.S. president used the term "terrorist" solely for Muslims.
"In America, Mr. Trump labels Muslims as terrorists. Here you are, the Buddhists in Myanmar killed Muslims of Rohingya. Can they call the Buddhists in the same way? No. Why? Because they do yoga. Could it be such a nonsense? Do they say the same thing for Christians or Jewish terrorists? No," he said.
Since Aug. 25, around 589,000 Rohingya have crossed into Bangladesh, according to the UN.
The refugees are still fleeing a military operation in which security forces and Buddhist mobs have killed men, women and children, looted homes and torched Rohingya villages.
"And while we fight, we say that Daesh has nothing to do with Islam. We are saying that Daesh is not related to Islam in interviews and at every international meeting," Erdoğan said.
"But you cannot make them understand and unfortunately they make Muslims kill Muslims," he added. "They also supply free weapons. We want weapons with our money to defend [ourselves], they do not give us weapons. We are in such a strange world."
'World is greater than five'
"The notion that the world is greater than five [powers] is a call to justice as well as an outcry of civilization. Five countries determine the fate of the world. This cannot be the case. As the world progresses, politics also needs to be updated," Erdoğan said.
The president has previously criticized the structure of the United Nations Security Council (UNSC) for its unequal system.
"If the principles of Islam were prevalent across the world, the crises we are suffering would not be happening. I am still defending the alliance of civilizations. As Muslims, we should be aware of the depth of our own civilization," Erdoğan said.