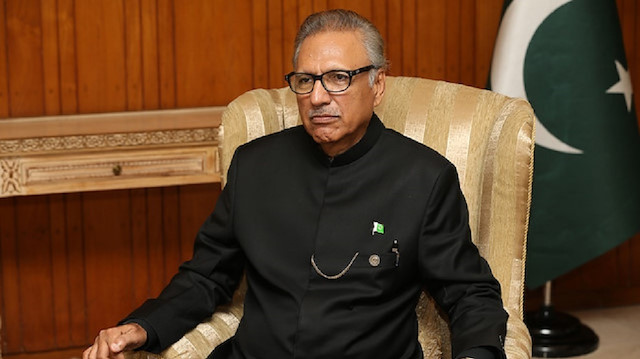 Pakistan doesn't want any war, but if India starts one the country could have no option other than to respond, Pakistan's president said on Monday.
Arif Alvi spoke to a group of Turkish journalists in capital Islamabad ahead of Prime Minister Imran Khan's speech, which is expected to highlight the Kashmir conflict at the 74th session of the UN General Assembly.
"We don't want war, it is not good for us to be dragged into war. But what would happen if India wants to start one? The Pakistani army is well prepared for this war and it is very experienced. In the past, we've fought a lot against terror in the country," Alvi said after underlining the importance of dialogue between the two nuclear-armed countries for the resolution of the Kashmir dispute.
Pakistani Prime Minister Imran Khan will announce action regarding the Kashmir issue after the UN General Assembly, he added.
The leaders of India and Pakistan are set to address the UN General Assembly on Friday.
Mounting tensions between nuclear-armed Pakistan and India flared further following the scrapping of the special status of the picturesque valley, which is divided between the two neighbors in parts with both claiming it in full.
Kashmiri leaders and citizens fear the Indian government's step is an attempt to change the demographic makeup of the Muslim-majority state, where some groups have been fighting against Indian rule for independence, or for unification with neighboring Pakistan.
Balking at New Delhi's move, Pakistan has also downgraded bilateral relations, suspended trade, and expelled the Indian high commissioners.
"Nuclear weapons under the control of fascists in India"
The recent border skirmishes in the Himalayan region of disputed Kashmir invoked fears of a larger military conflict and a possible nuclear war between the two neighbors.
"The most important problem is that the control of nuclear weapons in India lies with fascists. The world is in great danger," Alvi warned referring to India's ruling Hindu nationalist administration.
Alvi also compared India's anti-minority policies in the last 30 years to Adolf Hitler's ideology, saying: "The party of Indian Prime Minister Narendra Modi took Mein Kampf (My Struggle) and Hitler as its role model."
He urged India to release political prisoners in Jammu and Kashmir and follow the UN Security Council resolutions on holding a plebiscite in the region.
Since they were partitioned in 1947, Pakistan and India have fought three wars -- in 1948, 1965 and 1971 -- two of them over Kashmir, in addition to the three-week long Kargil skirmish in 1999.
According to several human rights groups, thousands of people have been killed in the conflict in the region since 1989.
4 years ago