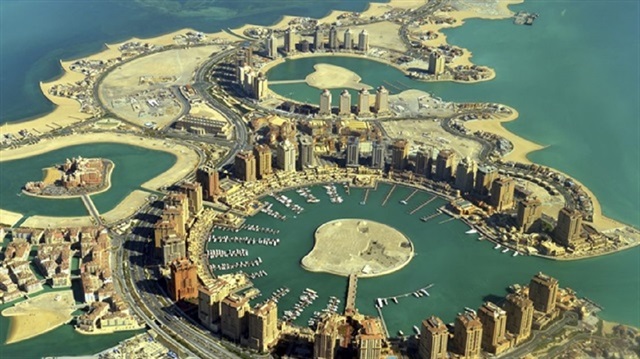 Qatar is preparing to make its biggest investment yet in Turkey in 2018 as it continues to be among the top foreign destinations for the Gulf country, investing $18 billion to date in various sectors across the country.
Qatar has given the green light for a 19-billion-dollar investment in Turkey in 2018, with $15 billion invested on the part of the Qatar Investment Authority and the remaining $4 billion will be a direct investment by Q Invest, another Qatari fund, which will target sectors such as energy, telecommunication, tourism, food, health, insurance, defense, banking and shipyard.
Taking upcoming investment from private funds into consideration, Qatari investment in Turkey is expected to top $20 billion next year, making Turkey among Qatar's top five foreign investment destinations.
A 50 percent increase
Qatar has allocated $10 billion in investment funds for Turkey in 2018, according to Erdin Özel, head of the Middle East Economic Platform.
"Following the solidarity demonstrated by Turkey in the aftermath of the embargo, Qatar Emir Sheikh Hamad bin Khalifa al-Thani has decided to increase investment in Turkey," Özel said, noting that "Qatar considers Turkey a safe haven, and statements made by the International Monetary Fund (IMF) in this regard have had a significant impact on this said decision."
Saudi Arabia, the UAE, Bahrain, along with Egypt, cut diplomatic and transport ties with Qatar on June 4, accusing Doha of supporting "extremism" and their regional ally Iran - charges which Qatar has repeatedly denied.
Lion's share goes to energy
Thermal power plants will be the main target for energy investments, according to Özel, who noted that "meetings are underway in two hotels in Istanbul for a close to 1 billion-dollar investment."
Projects aiming to build city hospitals are close second as targets for Qatari investment. Meetings are also being held with ship producer Ro-Ro.
According to Özel, every sector is being eyed closely by Qatar, noting that Turkish companies aren't being proactive enough in this regard.
"Turks need to be more proactive to secure investments. There's no need to wait for a reference. Being Turkish is already a huge reference," continued Özel.
$650 million invested in the food sector
Following the embargo, Qatar's biggest concern remains in the food sector, according to Özel, recalling Qatar's decision to expand its investments in this particular area.
Özel noted that the tiny Gulf monarchy considers Turkey a strategic partner in this field, "In 2018, Qatar's agricultural investment firm Hassad Food will invest $650 million in agriculture and livestock," he concluded.
Massive funds in Istanbul
Work is proceeding at full-speed for the establishment of an Organized Industrial Zone (OIZ) in Qatar. The construction of such a zone will be given to Turkish companies, according to Özel.
"The establishment of an OIZ will provide Turkish companies with a fund of $2.5 billion" said Özel.
According to a report by Turkish daily Sabah, The International Investment Summit organized by the Middle East Economy Platform will be held for the second time in Istanbul in April 2018, which will attract massive funds from Gulf countries.
Turkey-Qatar trade volume stands at $834.5 million
As the Gulf crisis escalated during the summer, Economy Minister Nihat Zeybekci, answered lawmakers' Qatar-related questions.
Zeybekci noted that there are 121 Qatari-capital companies operating in Turkey, with a combined capital of TL 5 billion.
Zeybekci announced that between July 2002 and July 2017, direct investment from Qatar in Turkey stood at $1.5 billion.
Zeybekci stated that Qatar is ranked 19th among foreign countries that invest in Turkey, noting that trade volume between the two countries stood at $834.5 million in 2016 , while the figure was estimated at $634 million in the first eight months of 2017 alone.
"As of 2016, our country is ranked 25th in exports to Qatar at 0.5 percent, while Turkey ranks in 14th place in imports, with a two percent share," Zeybekci concluded.